How To Talk To Your Potential Clients Without Being Salesy
If you find yourself wondering about being salesy in your conversations, keep reading.
This icky feeling has its roots in a couple of nasty things.
1. impostor syndrome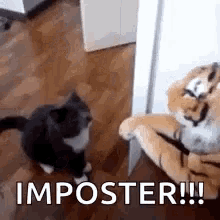 So many of us suffer from feeling like a fraud who is about to be found out, especially if we embark on a journey of finding potential leads for our businesses on social media.
We suddenly forget all our achievements, all amazing things that we have learned, acquired and mastered in our lifetime and all we feel is doubt if we are good enough (especially looking at those polished other ones, who are crashing it online with ease!). And feeling that you may be a fraud will make you feel salesy, spammy, fake and uneasy when you are speaking to someone who may become part of your business.
What I have discovered is quite empowering and helps me bust through my impostor syndrome every time (oh yes, it NEVER completely goes away). I read this somewhere, and I loved it: the more we know, the more we realise that there is still a vast about of learning to be done, so it makes us feel more insignificant. The more we know- the more we are aware of the infinite possibilities for further growth.
The more we know = the more we CAN keep growing
So as you experience this self-doubt, try seeing this as a sign that you are actually a master of your trade/niche/philosophy. And as a master, you know that you will never stop learning. All you need to do is pass on what you have already known, and what you are still learning along the way.
And THAT is GOOD ENOUGH!
2. Not Enough Ground Work
The second most common reason with feeling salesy is when you are not 100% sure that you have built enough KNT (Know Like & Trust)- based connection with the person you speak to and you feel the pressure of building the trust during the conversation. 
When you make a decision to show up as who you are (well, strategically as a Personal Brand, of course, not just posting any old nonsense like motivational quotes everyone is so sick of these days)
…when you show up in all forms: written, photographs and most importantly, VIDEO – that allows you to connect to your audience on a deepest, most authentic level
…when you take time to think about what you want your audience to identify you with: your values, beliefs, passions and things you cannot stand in life and your industry and so you can use these themes to create content that will position you in the way YOU would like to be perceived and adored by the perfect people in your audience (yes, ONLY by the best of them. The rest are free to scroll by.)
… when you commit to consistently showing up according to your brand strategy.
THEN THE SALES CONVERSATIONS BECOME YOUR MOST FAVOURITE.
Because the people you are talking to are already eager to BUY, so you do not have to do any "selling".
THEN launching your products, making offers, talking money will NEVER feel salesy to you. (Warning! You might even get addicted to offering people your help because they CANNOT WAIT to have more of YOU in their world!
The POWER of the PERSONAL BRAND is mind-blowing!
And the best place to start is with my FREE Ultimate Visibility Kit: create consistency and momentum to take into the open world and start showing up fearlessly and build that amazing personal brand that sells, so you don't have to!
Splenic Projector 1/3
YOUR VISIBILITY GUIDE
Juliette Stapleton is a Visibility Strategist for coaches and experts. She teaches how to attract clients online, creating your OWN marketing experience that feels good, easy and aligned with who you are and brings results.
Juliette has been featured in Forbes and several major business and marketing podcasts, like SocialChatter, 365Driven, Rising Tide, iHeart Radio, and Confident Live. She is an active contributor to world-leading online publications, such as Entrepreneur.com Influencive, Addicted2Success, Thrive Global, Good Men Project and many more.
She lives in Tallinn, Estonia.